TRAIN. MEASURE. GROW.
PERSONALIZED VIRTUAL CHALLENGES FOR AT-HOME ATHLETES
YOU CAN REACH THE SUMMIIT FROM ANYWHERE...
SUMMIIT Challenges are dedicated to the idea that no matter where you are, you should have the tools available to help you reach higher.

SUMMIIT provides challenges, trainings, and events for at-home athletes who are seeking a way to improve their overall performance, test their limits, and find an incredible community of friends along the way.
DOWNLOAD THE SUMMIIT APP
TRAIN
A FULLY PERSONALIZED EXPERIENCE.

SUMMIIT provides completely personalized training plans designed around your desired focus. The first plan we have launched is designed for the PeloFondo Event.

SUMMIIT helps you configure all of your training parameters, and designs a fully customized training plan based on your desired results.
MEASURE
FTP
NEW WAYS TO TEST YOUR STRENGTH.

Functional Threshold Power is one of the best metrics SUMMIIT can use to fully personalize all of your experiences, which is why we have 2 new ways for you to calculate this metric.
SUMMIIT RAMP TEST
Designed for new riders, the Ramp Test is an excellent introduction to the world of FTP. Unlike traditional FTP tests, this can be performed in approximately 10 minutes, and helps reduce the need for effort estimation.
SUMMIIT POWER PROFILE
The FTP Test's Big Brother. This series of tests, which are taken back-to-back, provide insight into your unique power curve and can showcase your strengths and uncover areas of opportunity in your training.
GROW
CHALLENGES DESIGNED UNIQUELY FOR YOU.

SUMMIIT provides completely personalized challenges, providing both the tools and the plans to help you accomplish your goal. From increasing your FTP to crushing that 100-mile ride, we have an ever-growing library of challenges and tools to help you achieve your goals.
SUMMIIT CLIMB CHALLENGE
26 World Famous Climbs, Personalized For You.
The SUMMIIT Climb Challenge is the first of its kind. Each of these climbs, ranging from 1,000 to 16,000 feet, provide simulated elevation gain for indoor stationary bikes, with 100% customization to the rider.

Each climb has 4 difficulty levels, which are designed to help you test your limits, while still being achievable. It is recommended to start at the beginner level on any climb to become familiar with the effort and give your body time to adapt.

Unlike most challenges, your overall distance does not come in to play here. SUMMIIT will provide you with specific metrics that have been fully customized to you, and you will unlock unique badges for every climb and effort level you complete.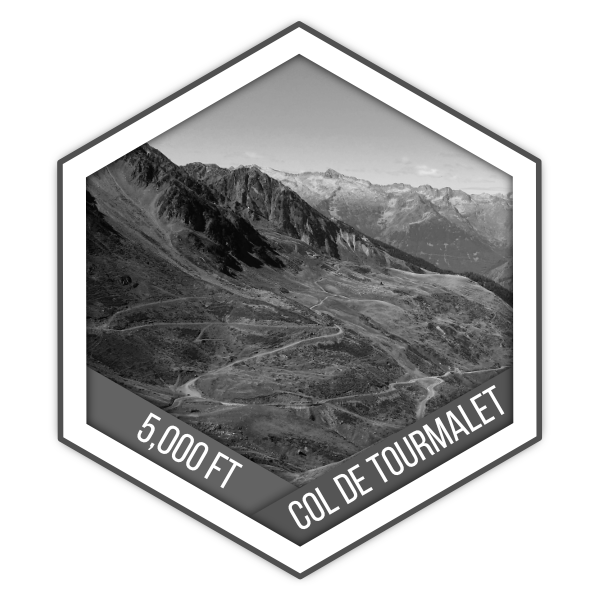 DIFFICULTY
ARE YOU READY?
SUMMIIT CHALLENGES IS A FREE SERVICE. NO PAYMENT IS REQUIRED
START MY JOURNEY